Anti-Bulling Win for Hill View Junior Academy
Anti-Bulling Win for Hill View Junior Academy
19 March 2019 (by hillviewjuniors)
We are proud to announce that yesterday Hill View Junior academy was awarded another anti-bullying award for 'Linking with the community'.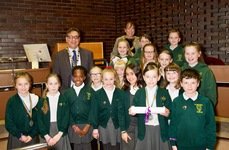 Our anti-bullying crew travelled to the Civic Center and received the award from the mayor at a ceremony held in the chambers.
Mrs Hedley says that the children were amazing, giving a short presentation of all the good work they do within school and linking to the community, including other schools and spreading friendship and kindness.
Well done to all our children, especially our anti-bullying crew!
Please keep your eyes peeled for a new and fabulous community event coming in the summer term!