Hill View Juniors are Watson Cup Winners
Hill View Juniors are Watson Cup Winners
19 June 2019 (by hillviewjuniors)
The team faced tough competition against South Hylton this year in the final of the Watson Cup.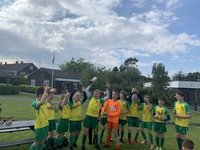 It was another big night tonight as the football team competed in the Watson Cup final.
Hill View Juniors were able to see off their competition and secure the Watson Cup in a 9-0 win.
It was a wonderful team performance which saw Corey take the Man of the Match trophy home, scoring 5 of Hill View's 9.
A huge well done to the team and thank you to all involved.