Another Night, Another Cup
Another Night, Another Cup
20 June 2019 (by hillviewjuniors)
Hill View Junior's football team were in action again tonight.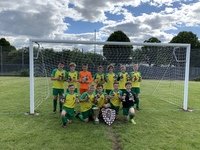 Rolling on the success of last nights win, the football team put in a thrilling performance to win their 5th title of the season.
A deserving 8-0 victory over a tough side, Redby, saw the team win the Gormley Cup!
A calm and strong performance at the back saw Evan take Man of the Match in what was his last game for Hill View.
Congratulations and thank you to all involved!