Yellows Triumph at Sports Day
Yellows Triumph at Sports Day
21 June 2019 (by hillviewjuniors)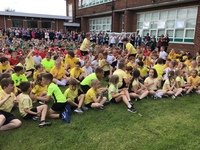 A wonderful afternoon was had by all at Hill View for their annual Sports Day.
All of the children tried their hardest to win as many points as they could for their teams across a range of fun, sporting activities.
With a difference of 63 points between the first and second place, the Yellow Team took the win and celebrated with a lap of honour.
A huge thank you to all of you who spectated, we hope you enjoyed your afternoon as much as the children did.
Well done to all involved!