Community Appreciation Day
Community Appreciation Day
28 June 2019 (by hillviewjuniors)
Hill View have had an amazing day for our first Community Appreciation Day!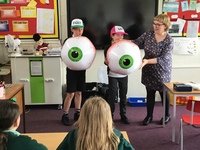 We have had many visitors from firefighters, Pupils First, St Benedict's Hospice, Royal mail, RSPCA to scouting and the navy to name but a few.
The children have had the opportunity to appreciate the hard work these people do for our community with a little fun and entertainment along the way.
Huge thank you to everyone who has helped, attended and given up their time to make it such a worthwhile and memorable day.