Its All Scone Mad!
Its All Scone Mad!
4 July 2019 (by hillviewjuniors)
In a fun filled week, Year 5 have had their very own Great British Scone Off, designing and creating their own scones!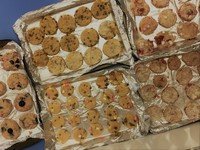 Year 5 have had the opportunity to research, design and make their own scones before having the chance to taste them.
There were many different concoctions created, all bursting with flavour, some favourites were; the cookie dough and chocolate chip scones and the raspberry and blueberry scones.
Now we have had a chance to create them at school, why not let year 5 show you how its done at home!