Maths challenge!
Maths challenge!
22 November 2019 (by hillviewjuniors)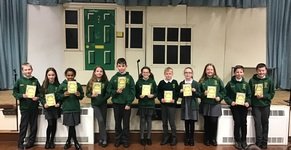 The children in Years 5 and 6, who are in Set 1 or 2, took part in the annual Primary Maths Challenge during the week beginning 11th November 2019 and it was a particularly tricky challenge full of reasoning problems. Everyone tried their very best and showed we have some extremely clever mathematicians at Hill View Juniors. Gold, Silver and Bronze certificates were given out in assembly to the children and we await to see if any of our highest scoring children make it through to the National Finals in February 2020.
Gold Certificate awarded to:
Isabella, Liam, Matthew, Maia, Layla, Georgia T, Charlotte, Daniel and Jay (Year 6)
and Max B and Alexandra W (Year 5)
Congratulations to you all!