Free Online Safety Tips & Guides
Free Online Safety Tips & Guides
15 January 2020 (by hillviewjuniors)
Free, helpful advice for online safety including apps, devices and games.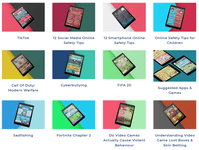 At Hill View we take the safety of pupils very seriously. This extends to their online safety too!
In such an advancing world it may seem impossible to keep up with the latest games and apps. From TikTok, Virtual Reality Headsets to how much time children spend on devices as well as the latest terms and trends, it seems like many things need to be juggled all at once.
National Online Safety (a site dedicated to keeping children safe online) have created a wealth of tips and guide sheets which help parents and carers keep their children safe online. These include, explaining terms and trends, giving advice on Fifa 20 and the Nintendo Switch amongst many others.
Follow the link below to be taken straight to these guides. A link can also be found on the e-safety section of the school's website.