TikTok 'Family Safety Mode' gives parents some App control
TikTok 'Family Safety Mode' gives parents some App control
25 February 2020 (by hillviewjuniors)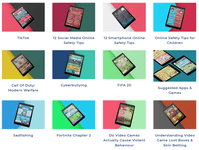 Tiktok have released a new feature which allows parents and carers greater control of how their children use the app.
By having a parent account, you can link it to your child's account and manage the content they see, set time limits and control the message settings.
Click here to be taken to the BBC article.
Remember the National Online Safety website (link below) offers an abundance of free safety tips and guides on the latest apps and crazes as well as past ones.
The BBC have also released an app called 'Own It'. The app, which features a special keyboard, combines machine-learning technology with the ability to keep a diary of their emotions to allow children the chance to record how they're feeling and why. In response, the app can offer help and support, giving advice if their behaviour strays outside safe and sensible norms. Children can access the app at any time to get instant, on-screen advice and support the moment they need it.