Welcome to Year 6
Welcome to year 6, which is the final chapter of your primary education! This year is filled with many exciting opportunities to make your last year at Hill View Juniors one to remember. From Derwent Hill; sporting competitions and tournaments; trips linked to our science and history curriculum; and the challenge of SATs, this year will have something for everyone.
The year 6 staff will keep this page up to date with all of the exciting things we have been up to over the course of the year. Look forward to seeing: our work in English on "Sky Song" and "A Monster Calls"; the problem solving that takes place in maths; our topic on WW1 and WW2; the many interesting science topics; artwork and much more!
We will display the very best work completed in the year group and photographs of the many opportunities we have in year 6.
Abbie Elphinstone Competition Winners
In September, Year 6 studied the book Sky Song by Abi Elphinstone. For homework, they were asked to produce a brief description of an ordinary object which had been tweaked to make it magical and this was entered into a national competition set up by Abi Elphinstone. The winners of the competition have just been announced and we are delighted to report that Grace won the competition with her invention of magical playing cards and received a signed copy of the book Rumblestar. Furthermore, Joe was a runner-up with his invention of a Dif-dimension Guitar and he received a signed bookmark. Well done to both of our winners.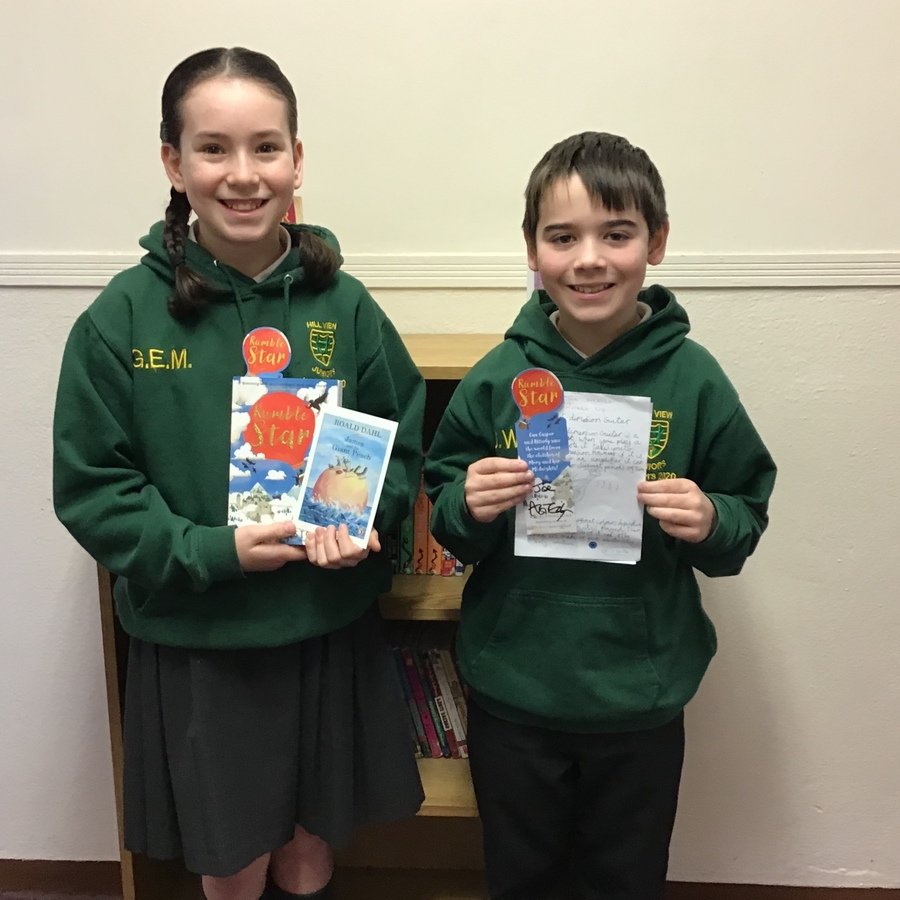 Cooking in Year 6
This half term, Year 6 have enjoyed cooking in their DT lessons. They have been inspired by their History topic World War 2 to make meals using only rationed produce. They have had to use different skills including, cutting, grating and peeling. I think all the children would agree that the tasting of the finished product was the best bit!
6DW Disco Dancing Lessons
This half term we have been learning a variety of disco moves, Check out the routines below created by the children
Derwent Hill
Monday 25th November – Friday 29th November
On Monday morning, all the children going to Derwent Hill arrived at school early ready for the journey across to Keswick. During the week, the children enjoyed a wide range of outdoor, adventurous activities including : hill walking, canoeing, big swinging, high and low ropes course, gorge scrambling and orienteering. Everyone had the best week and enjoyed spending time with their friends and making unforgettable memories.
Year 6 Visit to The Great North Museum
On Thursday 24th October, all of Year 6 visited the Great North Museum in Newcastle. As well as exploring the historical and cultural exhibits, each class took part in a workshop related to our science topic of Evolution and Inheritance. During this, we got to hold and touch real animals preserved by taxidermy as we studied their adaptations and looked at ordering replica skulls to show how humans had evolved. A great day out was had by all! Take a look at the photos below.
PE in Year 6
Year 6 have been enjoying their coach-led PE lessons this half term. Some children have been tag-tackling their friends during a game of rugby whilst others have been dribbling and shooting during basketball sessions.
Take a look at 6JS in action during their rugby lesson this week, where they worked on tagging and evading their opponent:
Sky Song
Year 6 kicked off their English lessons with a brilliant book called Sky Song which was written by Abi Elphinstone. The children are thoroughly enjoying the story and report:-
"This book is great for anyone who loves adventure stories and characters who manage to escape from evil." (Matthew R)
"I find the evil Ice Queen the most fascinating character in the book." (Alex Y)
"I love the fact that the story is set in an icy world." (Ryan T)
The author herself has contacted the school and had this message for the children:-